I just stumbled across an extraordinarily comprehensive post on author Dennis Cooper's blog in homage to The Teutonic Ice Queen, Nico. Replete with photographs and video, some of which I've certainly not seen before.
Just a few samples here. For the full article, please go to denniscooper-theweaklings – which is more than worth the visit anyway.
Dennis Cooper, if you haven't read any of his writing, is sharp. Almost literally. His style is cutting, pointed, incisive, painful at times. He dissects people and social issues like a practiced coroner and some of his subject matter may leave you looking and feeling drained of blood. He is never, however, unfair, even at his most venomous.
The Nico post is attributed to David Ehrenstein and, along with a short but complete history of the German model, actress and singer, collects together a stunning amount of still and moving images.
I hope Messrs Cooper and Ehrenstein don't mind if I add a few sounds and images here while pointing readers in their direction.
Nico – "Hidden" Frozen Warnings
(From the compilation, "Frozen Warnings", released by Rhino and available here)
Nico is best known as a member of the original Velvet Underground and was a key ingredient to the imagery and legend created around them by Andy Warhol. But, before those heady New York City days, Nico had enjoyed considerable success as a model and actress. Living in Paris at the beginning of the '60s, Nico graced the pages of all iconic fashion magazines (Vogue, Elle, Nuove, to name but three).
She also saw out the '50s with a small role in Fellini's timeless classic, La Dolce Vita, when the director noticed her on the set and was immediately struck by her haughty Teutonic beauty.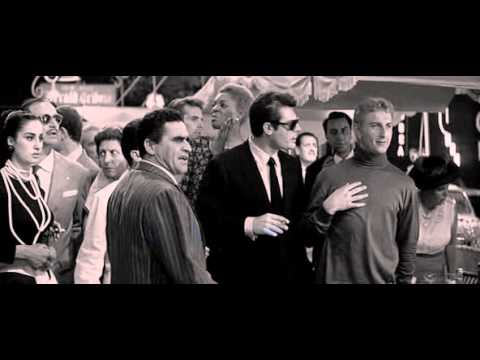 Ehrenstein chronicles Nico's '60s heyday in some detail – the birth of her son in '62, commonly believed to be the child of actor Alain Delon, her move to New York, her lead role in Jacques Poitrenaud's Strip-Tease (1963), for which she also recorded the title song, written by Serge Gainsbourg.
She recorded her first single with Rolling Stone Brian Jones helping out and Cooper's blog has the idiosyncratic video for "I'm Not Saying", and her first album, "Chelsea Girl", includes the song Dylan wrote for her, "I'll Keep It With Mine", while the two of them were living in Greece and he was writing the "Another Side" album. Tim Hardin, Lou Reed and Jackson Browne were among other song contributors to her first album.
(From the album, "Chelsea Girl", released on the Polydor label and available here)
The album is baroque folk in style and nothing like her earlier work with The Velvet Underground. Yet it is distinctively Nico, her clipped Germanic phrasing instantly recognizable.
However there is a discernible link between he folk style of the debut album and the acoustic version (below) of "Femme Fatale" from the first Velvets release.
Nico's album was named after Andy Warhol's 16mm movie, "Chelsea Girls", which proved to be Warhol's first commercial success in that field, although the critics were not universal in their praise.
Roger Ebert, for example, opined that:
"(W)hat we have here is 3½ hours of split-screen improvisation poorly photographed, hardly edited at all, employing perversion and sensation like chili sauce to disguise the aroma of the meal. Warhol has nothing to say and no technique to say it with. He simply wants to make movies, and he does: hours and hours of them."
Whatever you may think of the work, it now is, in effect, a historical document, offering a fascinating look at the characters who inhabited Warhol's "Factory", such as the doomed fragile beauty that was Edie Sedgwick, and poet Gerard Malanga. Never released in this country on DVD, it is apparently available in that format in Italy (God knows the reason).
Nico, of course, had to be part of Warhol's "Chelsea Girls" vignettes ….. and it seems the emotionless artist was able to make The Ice Queen cry!
It is the Velvet Underground involvement, along with the Warhol days, from which the Nico legend blossomed. In fact, her time with the band was short and restricted to the eponymous first album and, fabulous though her contribution is, she wrote none of the material. Furthermore her relationships with her fellow band members deteriorated rapidly because of lack of timekeeping skills, her various rituals before performing and her difficulty staying in tune, being, as she was, deaf in one ear.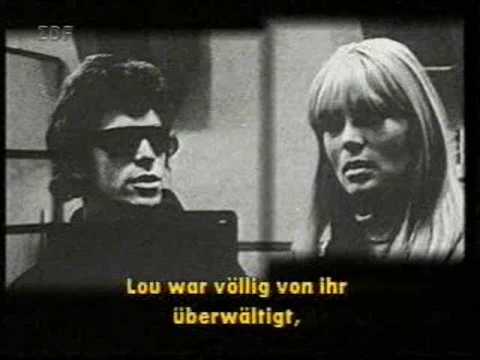 It is the Ice Queen's second and third solo albums, however, that are the grail for the vast majority of Nico aficionados. These two uncompromising discs are the full realization of the chilled, deathless, spookily sensuous and utterly Teutonic Nico of legend.
They are 1969′s "The Marble Index" and the following year's "Desertshore". It is these two albums, and a host of previously unreleased alternate takes that make up the magnificent "Frozen Warnings" compilation released in 2007.
(From the bootleg, "Atmospherics a Notre-Dame")
The preceding version of "The Falconer" (from "Desertshore") is a live version recorded at the infamous 1974 gig at Rheims Cathedral where Nico was the support for Tangerine Dream. The promoter had so grossly oversold tickets for the show that members of the audience couldn't move or reach the outside, eventually resulting in some fans urinating inside the cathedral hall. Predictably the owners -you may have heard of them, the Roman Catholic Church – were outraged and banned future performances on church property. Not only that, they also rededicated the cathedral prior to its use again as a place of worship!
What better way to confirm and enhance your legend as the unholy, undead, heretic Ice Queen!
The following track is from the same concert. The original is found on Nico's 4th solo album, "The End".
(From the bootleg, "Atmospherics a Notre-Dame")
Both "The Marble Index" and "Desertshore" were produced by John Cale, who apparently was able to get over his frustrations with all the Nico foibles which drove him to distraction in Velvet Underground days. They were also the first records on which the harmonium, Nico's signature instrument, was the primary musical tool.
The results are sparse, doom-laden, bitter-chilled slabs of almost brutal Germanic mystical tones, sinister as a wispy mist snaking through a dark, black forest, yet possessed of a clean, austere beauty without pareil.
(Originally on the album, "The Marble Index", this is a remastered version from "Frozen Borderlines")
The dirge below is one of Nico's most recognizable compositions – "Janitor of Lunacy", which opens "Desertshore". The footage is from a concert in the mid-'80s at the Paradiso in Amsterdam.
Sadly, Nico fell prey to a burgeoning heroin dependency which sent her career into nosedive and her appearances on record and live from the early '70s on were sporadic and uneven, some close to disastrous. The occasional magical moment still burst through, such as her heavily treated vocal performance on the title track from the Kevin Ayers album, "The Confessions of Dr. Dream and Other Stories".
Kevin Ayers (with Nico) – The Confessions Of Dr. Dream (Irreversible Neural Damage)
From the album, "The Confessions of Dr. Dream & Other Stories", on EMI Records, available as a remastered cut-price import with bonus tracks here)
One song that failed to make the final cut for "Desertshore" is the fabulous "Konig". It surfaced in the 1972 Phillip Garelle film, La Cicatrice Intérieure, in which Nico also stars, and the version here is from that film. It did not appear on disc until included on 1985′s fairly abject "Camera Obscura".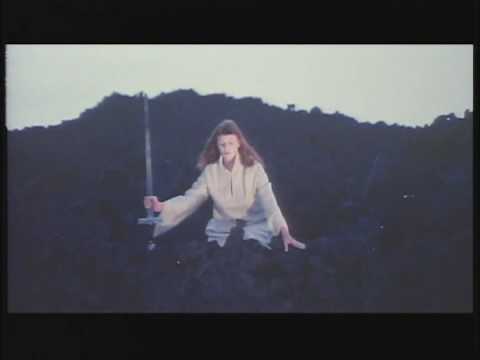 Quite how 1970′s "Desertshore" comes to have stills from the 1972 film on its front and back covers are beyond me but thank God it does; the stills perfectly matching the majesty and desolation of the music.
It was the imagery on the cover of "The Marble Index", however, that utterly ensnared me. The glacial porcelain beauty of the close-up on the front cover is perfectly offset by the wide-open shot of the German singer, looking more like a siren of The Steppes, moving contemplatively through an unseen but somehow imagined (at least by me) vast landscape dripping with history and clashing Germanic/Slavic romanticism. Bloodlands really.
I just wanted to be there with her!
Nico left us in 1988, not because of heroin, but as a result of an accident in Ibiza. Nico had a minor heart attack while riding a bicycle and hit her head as she fell. A passing taxi driver found her unconscious and had difficulty getting her admitted to local hospitals. She was diagnosed at first as suffering from heat-exposure and died at eight o'clock that evening. It was only after her demise that x-rays revealed a severe cerebral hemorrhage. At the time of her accident she was following a methadone program to finally kick her dependency on heroin.
Nico was laid to rest with her mother in Grunewald Forest Cemetery, Berlin. She was 49.
…..
Dennis Cooper's latest published work is "Smothered in Hugs", a collection of his essays and reportage for various magazines and periodicals. It's available here. He is also the author of numerous novels and short stories. Labelled "a disquieting writer" by Vanity Fair, I would say that's a subtle way of terming his always arresting, often incendiary prose. I dare you to read any of his work.
Go on, I dare you! Check out his catalogue here.